Vud's "Sardo" chopping board
The traditional Sardinian chopping board is an essential object, which has several functions: cutting, serving, even seasoning! A small area near the handle is dedicated to cutting, the hollowed out part is used to hold and serve the food, and there is always a small salt bowl. You just have to turn it over to realise that every self-respecting old chopping board is marked on the back too: every centimetre of the board is used!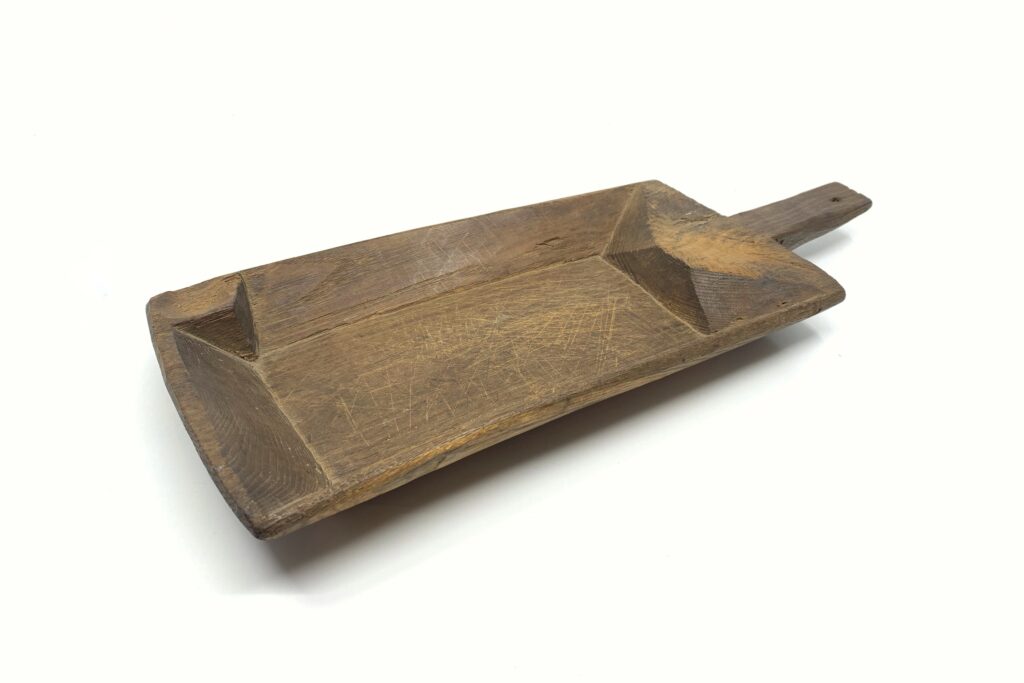 Traditional Sardinian chopping boards have always been made of chestnut, the softest kind, which grows in the Desulo area in central Sardinia. It seems that this wood is ideal for making chopping boards, but also for ladles, oven shovels, containers for making cheese.
Made during the winter months, these utensils were sold (more often bartered) during the spring and summer, by hawkers who travelled all over Sardinia, recognised in every village by their call "e turuddas e talleris!" (ladles and chopping boards!)
Contemporary design, traditional functionality
We wanted to reintroduce the Sardinian chopping boards with a more contemporary design, but without neglecting any of their specific functions: the handle is replaced by two recesses that make it easier to grip, the cutting area is enlarged and includes a salt bowl. Of course, vud's Sardo can also be turned around and used on the other side if you need a larger working surface.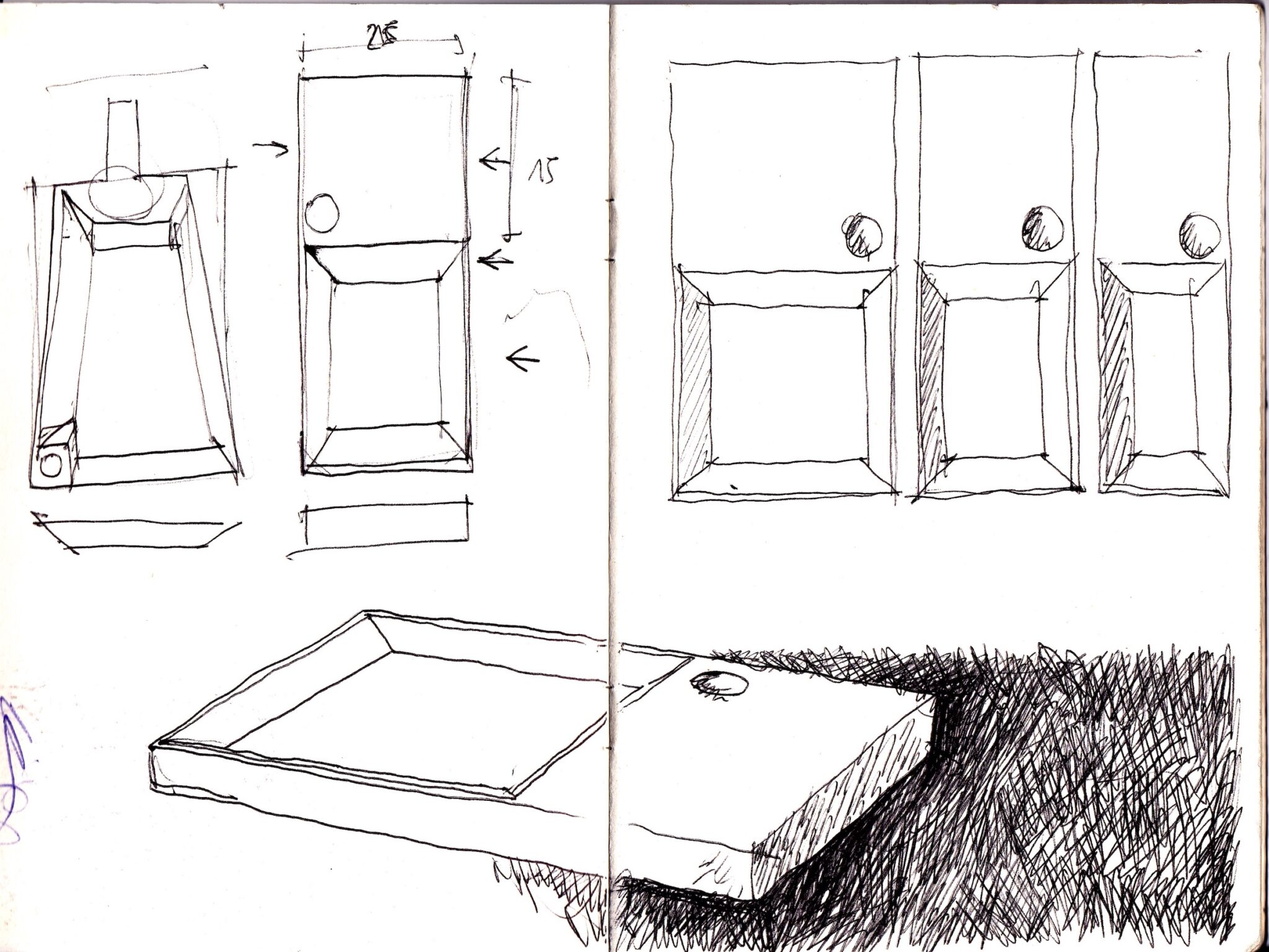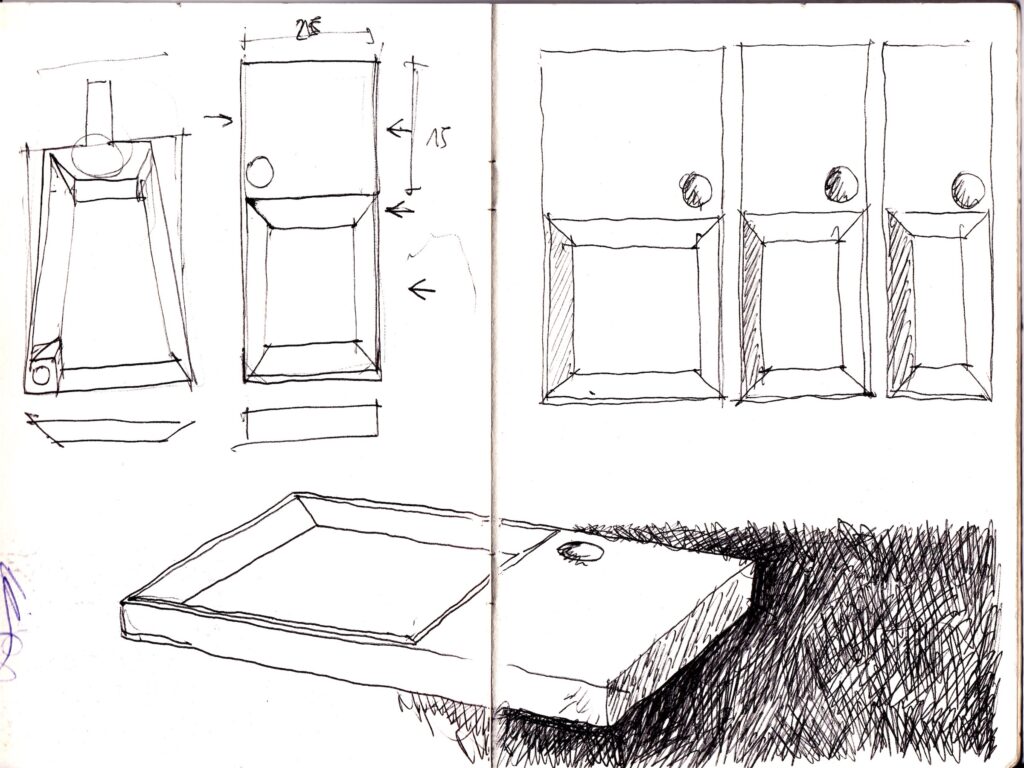 The wood we use, however, is not only chestnut, we use all the woods we have available in the carpentry: from oak to walnut, from maple to acacia, without waste.

It is an object of which we are particularly proud, to be used in the kitchen and at the table, as has always been done, in full vud spirit.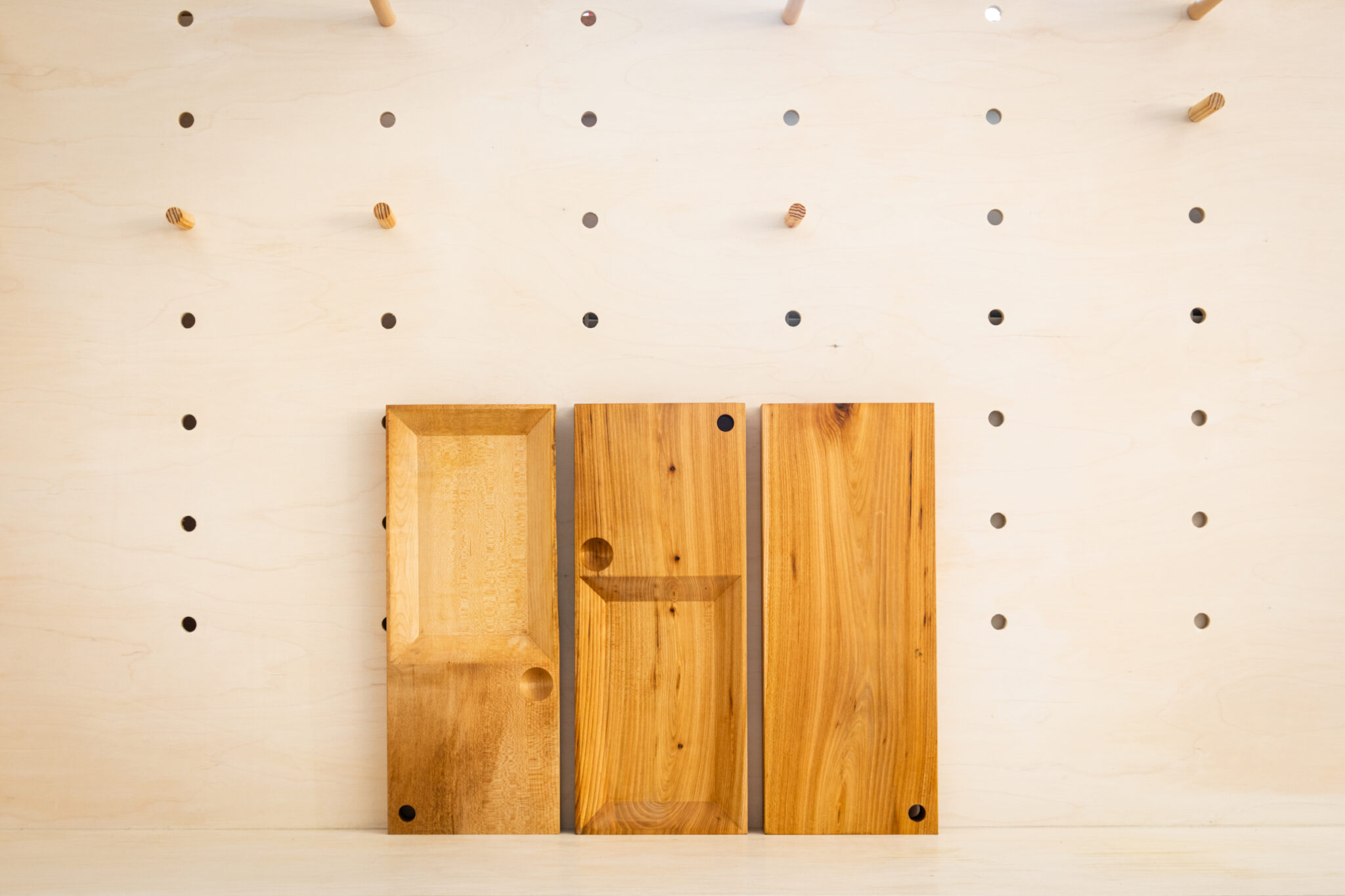 On this page you will find all the details.
A plunge into late 19th century Sardinia
When looking for information on the history of Sardinian cutting boards, it is essential to consult sardegnadigitallibrary.it, an inexhaustible source of images, videos ("L'arte di un popolo" is a must-see), audio, documents… That is where we discovered that the seller of chopping boards was a much-loved subject, appearing frequently in the island's pictorial and photographic iconography.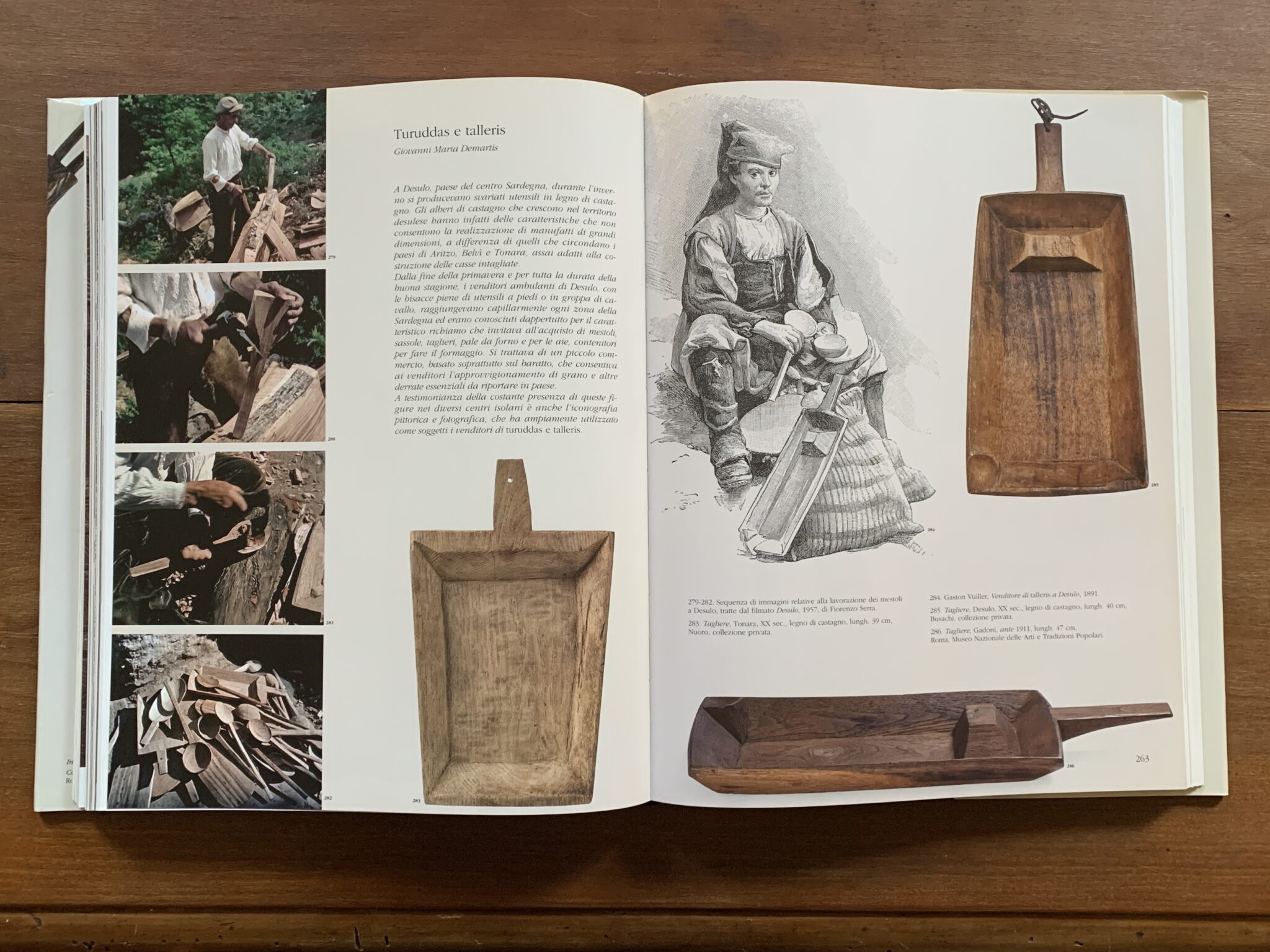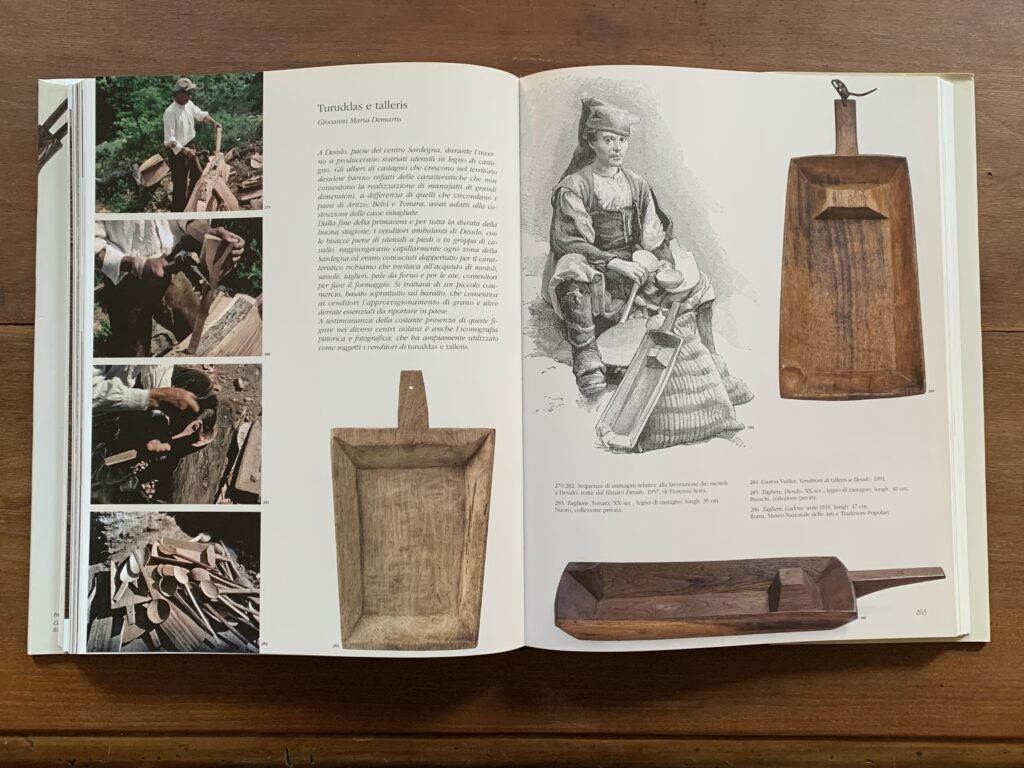 Thanks to "Legni" by Ilisso, a publishing house specialising in the island's art, culture, traditions and ethnography, we discovered Gaston Vuillier, traveller, designer, ethnographer, who visited Sardinia in October-November 1890 immediately after visiting Corsica and the Balearic Islands. The fruit of this trip was a large volume published in 1893: Les îles oubliées. Les Baléares, la Corse et la Sardaigne.
We have found an English edition, which we can't wait to have in our hands! In the meantime, you can dive into the centre of the Mediterranean of a century ago thanks to its online version: it's all yours to browse through, but if you want to go directly to Sardinia, skip to page 258.
And there is also a link between Vuillier and Trieste! It seems that in the Balearic Islands he met Archduke Ludwig Salvator of Austria (full name Ludwig Salvator Maria Joseph Johann Baptist Dominicus Rainerius Ferdinand Carl Zenobius Antonin) who asked him to do the drawings for a book on Miramare. But this is another story…